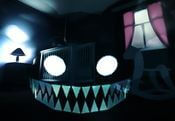 Night Blights FREE GAME · PLAY ONLINE
The little boy was sleeping soundly in his bed. Suddenly, strange sounds began to be heard from the corridor. Is someone laughing? The main character opened his eyes and realized that he needed to run! In this game you have to control a child, so the process will be seen from below.
Everything seems so big, but the desire to live cannot be compared with anything! Can you protect your family for a week? This will be too creepy, so we hope you can bear it. Get ready to face monsters and other creatures!