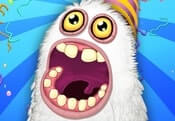 My Singing Monsters FREE GAME · PLAY ONLINE
Time to create an island with cool creatures. Not only do they look beautiful, they are also talented. These characters have a great ear and are ready to perform any song. My Singing Monsters is a fun challenge where players can have fun!
Collect the characters when they are very young. Raise them with enough attention and love! Feed them, and teach them new notes! Each one is unique and ready to serve you! There are a huge number of them so try to get all kinds! May your song be perfect!