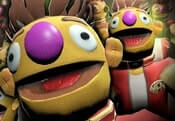 My Friendly Neighborhood FREE GAME · PLAY ONLINE
A long time ago there was a cooking show that everyone loved. The main roles were funny puppets who became the idols of many. Due to bankruptcy, the program was closed, but the heroes did not want to leave. Recently, familiar faces resurfaced on all the TVs in the city.
You, as a worker, were sent to fix this problem. The territory is very strange and everywhere breathes fear. In this game you have to deal with this terrible story and survive! Will you cope with all the obstacles and traps that will appear?