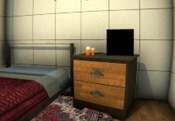 My Eyes Deceive FREE GAME · PLAY ONLINE
The plot of the game tells about a girl who lives in a basement all her life. A terrible virus is raging on the streets and killing people. Fortunately, the heroine's dad takes care of her so that nothing bad happens to her. A young lady takes pills to feel healthy.
But why does she get tired quickly and experience headaches? What's really going on? Can a close relative betray and deceive? Players will have to find out the whole truth while here and help the character! Is this all the flesh of fantasy?