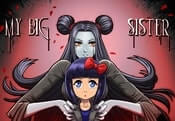 My Big Sister: Remastered FREE GAME · PLAY ONLINE
An interesting adventure game that dates back to the early 2000s in style and content. Players loved the soundtrack, but the graphics have their own charm too. Especially the ruined urban areas and the anime-inspired magical forest. Puzzles are not something to think about, but they are not a feature.
The main thing is the idea. The atmosphere is good too, although the sisters are a bit too sassy and sarcastic for what is supposed to be a horror/psychological arcade challenge. But in the end it worked. Watching how the relationship developed between two siblings.