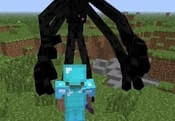 Mutant Enderman FREE GAME · PLAY ONLINE
Mutant Enderman is an action with a creature from the popular challenge. With enhanced abilities and a thirst for adventure, you move through the various levels. You also have to fight enemies and collect resources. It has amazing graphics that will captivate everyone for hours!
Each round brings new challenges and obstacles! Including treacherous terrain and powerful enemies. You can upgrade your character's skills and unlock teleportation and invisibility. It will be exciting!