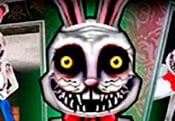 Mr. Hopp's Hunting Hour FREE GAME · PLAY ONLINE
The main character was given a toy that scared him. Suddenly it disappeared from its usual place. Where could it have gone? Mr. Hopp's Hunting Hour is a horror that will make you nervous. Help your child cope with this creepy rabbit and stay alive!
Don't let him get into the house and therefore watch the doors! The enemy can also use the ventilation pipes, so be on your guard! In addition, fans must be quiet and not step on dolls on the floor. Any sound will indicate your presence and make the monster attack.