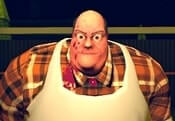 Mr. Dog. Horror FREE GAME · PLAY ONLINE
The protagonist is a child who has to escape from a huge house. Long corridors and rooms intersect which makes you think that you are in a labyrinth. This mansion belongs to a man who has many mental disorders and is also dangerous to society.
Explore all the territory in the game in order to find a way out! Be careful and listen for suspicious noises, because it can save you in Mr. Dog. Horror. Other than that, beware of the killer pet! If you meet with this, then the process will end.