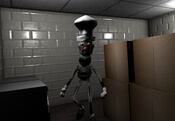 Mooshie's Kitchen 2 FREE GAME · PLAY ONLINE
This is a continuation of the game, where a responsible task awaits you! The players witnessed the escape of the protagonist in the last part. After that, the government of the country turned to him in order for him to return to that place.
Now he has an even more dangerous mission with opponents and you have to help him. If he does everything right, then he will never have to pay taxes again! Be dexterous and attentive in order to pass through all obstacles. You can try the endless mode and enjoy the atmosphere!