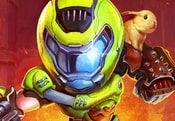 Mighty DOOM FREE GAME · PLAY ONLINE
In Mighty DOOM you have to complete one of the most dangerous missions in the world! Here, players will take the role of a soldier and destroy all the demons. The road will be long and not easy, and enemies will constantly come across on the way.
There are simple controls and bright graphics, so the interest will not be lost. During the process, you will be able to spend the accumulated experience to open up new opportunities. Upgrade your equipment, become faster, and learn to shoot in different directions!