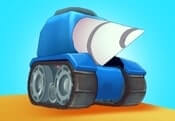 Merge And Dig FREE GAME · PLAY ONLINE
In Merge And Dig, players will descend into a dungeon. How far can you go? In order to remove the earth from the path you have special machines. Dо the road and move on! Over time, these technologies will not be very useful.
It's time to come up with another option for completing tasks! Merge cars to get a new type of transport! It will become more powerful and the result will not keep you waiting! Become a master in this business and constantly improve the possibilities! Can you complete this mission?