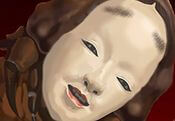 Masked Devourer FREE GAME · PLAY ONLINE
The plot of Masked Devourer is about a young girl who makes a video. She has a blog on social networks where she talks about creepy places. They are all connected with paranormal, but she thought it was nonsense.
One upon a time the woman decided to visit a city about which there are terrible legends. After this trip, her opinion changed! A dangerous monster lives on the territory. He can spot anyone from a long distance, so be careful. If you hear footsteps, run! The louder they are, the closer it is to you!