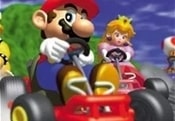 Mario Kart 64 FREE GAME · PLAY ONLINE
You have already witnessed a variety of events where a plumber took part. Everyone knows that he is capable of a lot and no one and nothing will stop him! In Mario Kart 64, he decides to try something new and you will help him with this.
The hero will take part in races, where it will be full of adrenaline. Drive his transport and watch the road carefully! Have time to turn on sharp turns and don't crash into obstacles! Collect nice bonuses and get rewards to complete cool unique collections!