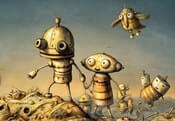 Machinarium FREE GAME · PLAY ONLINE
Today, players will take control of a robot that has a dream. He longs to return to Machinarium, which is his hometown. Quite by accident, he learned that the enemies had planted a bomb. It is located on the main street and carries a huge danger.
You have to take the initiative in your own hands and fix this problem! The whole process is built on logical thinking, so you need to be very careful. Complete interesting tasks that include puzzles! A lot depends on your decision, so take your time!