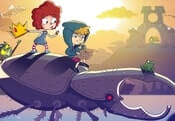 Lost In Play FREE GAME · PLAY ONLINE
The plot is based on the popular cartoon and will delight all fans. In the game, players have the opportunity to visit the world of imagination. Brother and sister are between reality and fiction and you must help them. The main task here is to get back home by any means!
Are you ready to visit the mysterious forest where the monster with horns lives? Also go to the village of strange creatures, teach a sheep to fly and much more. All stories will surprise everyone and make you enjoy amazingly bright graphics!