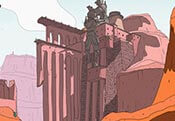 [lock-on] The Story So Far 1-6 FREE GAME · PLAY ONLINE
Are you ready to go on an adventure through an unknown world? It is full of surreal situations that will surprise everyone. In [lock-on] The Story So Far 1-6, players will witness a variety of stories. None of them will be left unsaid, remember this!
Everywhere there must be a logical end and this whole process was created according to this rule. Follow the story, where there will be conversations on various topics. Perhaps something will bring fans to tears, and something will make them laugh.