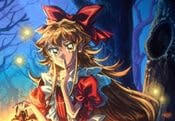 Little Goody Two Shoes FREE GAME · PLAY ONLINE
The main character is a girl who dreams of being rich. But for now she works for her neighbors, doing menial tasks. Little Goody Two Shoes is a horror process that forces you to make decisions. Literally every aspect of a girl's life depends on them.
One day, a lady found red heels in her backyard. She hastily put them on and went on a journey. They beckon her to the forest, but will she decide to do this? Players will have to constantly take care of the woman to find out about the ending! Which one will be for you?