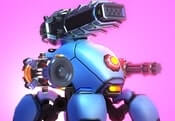 Little Big Robots FREE GAME · PLAY ONLINE
This is a real war, but not between people! In Little Big Robots, players will control machines that are dangerous. They are ready to fight and will do everything to win. Take control of one of them and start the process!
Participants will have to come up with a clear plan of action in order not to fall into the trap. Enemies are very cunning and will constantly come up with new methods of ambush. For this reason, you need to hide in the bushes and improve your abilities. Will you be able to reach the end?