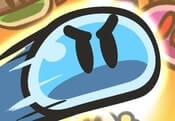 Legend Of Slime FREE GAME · PLAY ONLINE
This is a fun and good game where players have to guide a cute little creature to the finish line. Many obstacles and enemies will appear on the way, so be careful. As you progress through the levels, you will need to use your wits and reflexes.
Jump, slide and dodge dangers like spikes, fire and flying monsters! There are multiple difficulty levels and cool characters to choose from! You'll never know what surprise awaits you right around the corner! Deftly react to tricky situations and go to the end!