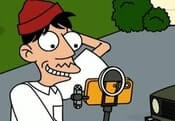 Lamar Idle Vlogger FREE GAME · PLAY ONLINE
This guy is from a poor family and he doesn't even have money for food. The last hope to get rich is to shoot a couple of funny videos. He borrows from his best friend and you will help him not to go bankrupt in this matter! In Lamar Idle Vlogger, players will find a cool storyline!
Make decisions to become famous and receive huge profits for your work! Here fans will be able to constantly improve the hero's life by buying him houses or cars. People don't want to hang out with people who have holes in their socks.