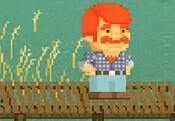 Lakeview Cabin FREE GAME · PLAY ONLINE
Have you ever wanted to test your survival aptitudes? Come in and see how long you can last at Lakeview Cabin. This world is divided into four parts, each will thoroughly tickle your nerves. You should be prepared for unexpected turns!
Because death will pursue your character throughout your entire journey. It will not be easy to get out and survive. But if you use your abilities, knowledge and ingenuity, you will be able to avoid a terrible fate. Plunge into the atmosphere of old horror films!