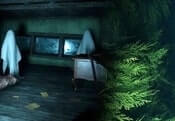 Labyrinthine FREE GAME · PLAY ONLINE
In this challenge, players can take part with other users. Labyrinthine is a process that will make absolutely everyone nervous! According to the plot, you will find yourself in a suspicious place that has many twists and turns.
This is a maze through which you need to go without stopping and get to the exit. Whatever happens, don't look back! There are many monsters and creatures in this territory. All of them are dangerous and can harm users. Solve puzzles and remember that they are randomly generated.