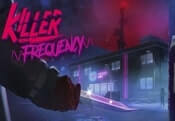 Killer Frequency FREE GAME · PLAY ONLINE
In Killer Frequency, users will take on the role of a DJ. This radio job seems easy and carefree, but it's not. The broadcast has just begun and the first call from the listener has already appeared! He said something that turned your life upside down in a split second!
Find out what happened and start exploring the location. The studio has a variety of rooms with great details and graphics. Pay attention to each item because perhaps it is in it that the huge secret is stored! Interact with locals!