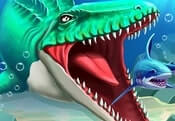 Jurassic Dino Water World FREE GAME · PLAY ONLINE
How about going to one of the past periods? In this game, players will visit the universe which is located deep below the sea level. The main task is to collect unique creatures and become a master in this matter. Fans can see here ancient animals that are actually fiction.
Create an underwater location where these cool prehistoric characters will live! In addition, you can cross them with each other and get new species. Fight opponents and constantly upgrade heroes and resources!