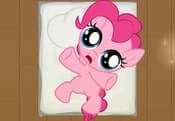 Joy Pony FREE GAME · PLAY ONLINE
Everyone knows that cute horses are in trend right now. You probably also want such a pet in your home. Today, players have the opportunity to look after them. These creatures are very sweet and kind, and also want love and care. You have to feed them, bathe and comb them.
In addition, they love to walk, so you can explore the beautiful places around. You also need to have fun and that's why there are puzzles here. You will spend time with benefits and interest! Don't let your new friend get sick and treat him!