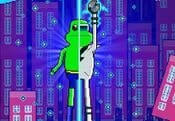 Jerry Frog's Most Challenging Adventure FREE GAME · PLAY ONLINE
A disaster will soon hit the island and you must prevent it! Asteroids and other cosmic bodies fall from space! The main character wants to save humanity from this. He thinks that it will be easy, but there will be many different obstacles on his way.
Are you ready to face fires and weather that can ruin all your plans? In addition, the hero will meet dangerous enemies! Find a way out of any stressful situation and get to your destination! Don't lose your balance and use tricks in the game!