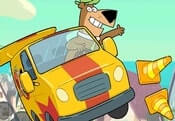 Jellystone Express FREE GAME · PLAY ONLINE
Jellystone Express is a game about driving. You will play for a bear named Yogi, who recently got a driving license and decided to become a driver.
Explore the town and get acquainted with various citizens. Complete their assignments and do other quests. You can even face true aliens here. Many adventures are already waiting for you! So grab the steering wheel and push the pedal. Drive as fast as you can and try to deliver things in time. Have fun and enjoy colourful cartoony graphics!