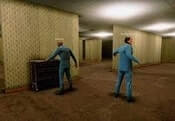 Inside The Backrooms FREE GAME · PLAY ONLINE
Inside The Backrooms is based on the famous challenge. Four participants must take part here who will try to escape. Visit a room that looks like a basement and has a dark atmosphere. In order to carry out the planned plan, the participants must solve puzzles and collect items.
Visit every corner and find the things that will allow you to continue on your way! Discover new locations that will be even more riskily and scarier than the previous ones! Identify each creature and survive!