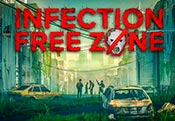 Infection Free Zone – Prologue FREE GAME · PLAY ONLINE
Recently the planet has plunged into chaos! A strange virus was thrown out of airplanes and infected all of humanity. People have become zombies and are hunting residents who are still sane. In Infection Free Zone – Prologue, players will take on the role of a survivor.
Create a safe place in the city and stay here as long as possible! Reopen grocery stores, pharmacies and some other industries. Be prepared for the night, because monsters will attack! Collect weapons, but not in abandoned buildings!