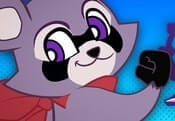 Indigo Park FREE GAME · PLAY ONLINE
In the game fans can take part in an exciting trip into the universe of creativity. Travel to a place of entertainment where you will explore vibrant lands with unique themes! Solve mysteries, interact with cool heroes and complete exciting quests.
Let your fantasy run wild to discover hidden secrets and find out the real reason why you are here. Players are waiting for interesting rides and much more that will check your ingenuity. Every decision you make affects the story! Good luck!