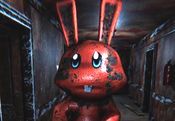 Indagar FREE GAME · PLAY ONLINE
The plot of the game is about a young woman who lost her child. The daughter disappeared a long time ago and there was no evidence. Police called off the search after the case reached a dead end. The lady despaired and stopped hoping for a miracle until this happened!
One day Julia received a strange message with a text. This gave her hope that the baby was still alive and waiting for her. Players will have to go to the place indicated in the letter! It's a scary atmosphere with monsters that you have to escape from!