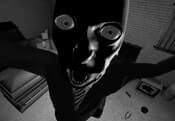 I'm on Observation Duty 5 FREE GAME · PLAY ONLINE
If you're a big fan of the paranormal, then welcome to I'm on Observation Duty 5! Here you have to learn about many different strange situations. There is a terrible atmosphere here and therefore the tension will grow every second.
Players will be able to see otherworldly enemies and witness creepy events. With the help of cameras, you will be able to visit every room in the mansion. Get ready to use your vision and memory to the maximum to cope with this. Along the way you have a chance to learn some secrets!