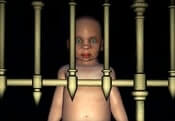 I'm on Observation Duty 3 FREE GAME · PLAY ONLINE
This is another part of the game where you have a difficult task. Players will visit a mansion with many rooms where creepy things happen. With the help of cameras, you can observe various anomalies here. Switch between locations in order to have time to see the movement of furniture and more.
Do not slow down and make a report on the location and type of phenomenon. You will be able to see ghosts and other otherworldly forces! Only the most courageous person, who is difficult to scare, can cope with this task.