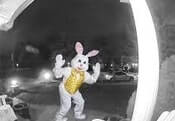 I Caught The Easter Bunny FREE GAME · PLAY ONLINE
I Caught The Easter Bunny is similar to the previous version. The fans liked it very much and therefore a sequel was released with a new character. In honor of this bright holiday, players will have to collect eggs.
Despite the fact that they are painted in bright colors, they will still be difficult to notice. Participants go to the forest to complete this mission! Use a cool gadget to get good results. But do not forget that you are not alone in this territory and be always on the alert! Always look around!