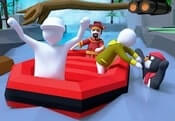 Human Fall Flat 2 FREE GAME · PLAY ONLINE
It seems that you are in your own dreams! In Human: Fall Flat 2, players will experience unforgettable emotions and experiences! Test your strength in this exciting challenge! Here you have to climb into the tower and get to the very top.
Be careful, because hot lava has spread all over the floor. If you even touch this with your little finger, then you will not be returned! Compete with your friends and find out who is the smartest of you! Use your imagination, cunning and the ability to react quickly!