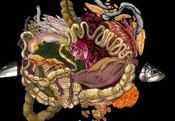 How Fish Is Made FREE GAME · PLAY ONLINE
How Fish Is Made is a challenge with a narrative plot. Find out how easy or difficult it is to be an underwater inhabitant. Here players will go to a world where there are a huge number of sardines. Become one of them and make decisions.
Perhaps you will be able to choose the right path for it! Or are you not good enough at this and will mess it up? This process is interesting and exciting, so get ready for a long swim! Find friends and chat with them about different topics! Their fate is in your hands!