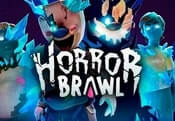 Horror Brawl Ice Scream FREE GAME · PLAY ONLINE
This is a battle royale with horror elements! You have hardly seen such a challenge before, so get ready for new emotions! In Horror Brawl Ice Scream, you have to explore the whole territory and fight with opponents.
The main task is to get out of here one of the first using the portal. In addition, players must find items, materials and other resources that will help in the future. With the help of crystals, you can unlock other characters with unique abilities. Get rewards by completing interesting tasks!