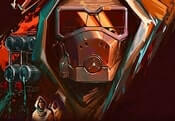 Homeseek FREE GAME · PLAY ONLINE
Everyone began to treat nature too badly and everything began to approach trouble. People quarreled and did other bad things, but soon got the consequences. There is virtually no water in Homeseek, making it difficult for civilians to survive.
Almost everyone died, but there was a group that continues to fight for life. Players will guide them through different territories and help them cope with difficult situations. Take part in one of nine stories and choose a mode, which will make you nervous!