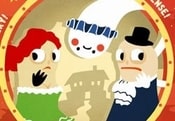 Haunt The House FREE GAME · PLAY ONLINE
In this game you will take the role of a ghost who lives in a huge mansion. He hates when strangers come and try to get in here. You have to help him drive away all the unwanted guests! Since the character has mystical abilities, you can use them for the necessary purposes.
Move objects, make light bulbs flicker or drop mirrors! All this should scare visitors and they should immediately leave the building. Make everyone believe that you are the most evil spirit in the world and you better not stay here!