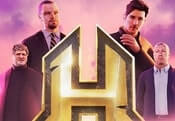 Hassle Online FREE GAME · PLAY ONLINE
Welcome to the world of crime! Today the players will go to the streets of their native city. This is a huge map that you can explore alone or with friends. Gather your own gang in Hassle Online and lead it!
Fans also have the opportunity to take the side of good and put on a police uniform. In this case, you will have to keep order and detain violators of the laws! Meet other characters and find out some secrets that will lead the way further! Use cool cars, take part in races and buy huge houses!