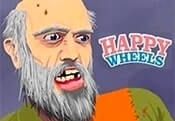 Happy Wheels FREE GAME · PLAY ONLINE
The character of the game is an elderly grandfather who loves adrenaline. In his youth he was a real racer, but age takes its toll. Today he decided to remember the past years and go to one of the most dangerous tracks.
As a transport, he will not have a sports car, but there is something better. The man is in a wheelchair and ready to ride with the breeze! The player will have to take control and bring the hero to the finish line. Be careful, because there are a lot of obstacles. Let the dude at least stay alive!