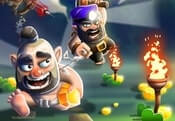 Guardians of Gold FREE GAME · PLAY ONLINE
Welcome to the territory where there is a lot of valuable metal. The keeper carefully guards it so that no one steals it! Can you do it right under his nose? This game has a huge number of exciting levels. Each of them is different in its uniqueness and complexity, so try them all!
Transfer resources to other workers and place it in the hole. You have only 25 seconds to manage and not be noticed! Try to go around the guard so that the item does not fall back to its original position. Good luck!