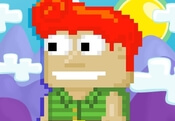 Growtopia FREE GAME · PLAY ONLINE
In Growtopia, participants will be able to visit several unique worlds! Each of them has its own features that everyone will like. Here you can build castles, skyscrapers, dungeons and even space stations! In addition, you can recreate your favorite places from famous cartoons or movies.
Think of an image for your character and go on an adventure! Who will he be: a cute princess, a noble knight or a space explorer? Take part in exciting mini challenges and have fun! Here you will find different genres!