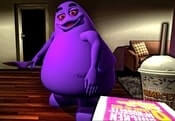 Grimace Shake Horror 2 FREE GAME · PLAY ONLINE
Players will open their eyes in the middle of the night and see a cocktail. This recipe was invented by one of the restaurant's mascots. The drink looks creepy and seems completely tasteless. In Grimace Shake Horror 2, it's up to you to drink it again and go on an adventure.
It will be quite creepy, so be always on the lookout! Visit the depths of the monster's belly and explore everything there! Various objects will appear on the way, as well as entire situations. Can you find a way out?