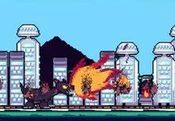 Giga Roar FREE GAME · PLAY ONLINE
If you are tired of banal plots, then welcome to this game! Here players will control a dinosaur and go to the city. The character needs to get from one point to another. Be careful, because the report is conducted directly from the scene.
Helicopters have already been sent to the location and are supposed to destroy you. Make a huge creature release fire from its mouth! Let them burn and you score as many points as possible! Simple graphics and controls will allow you to relax and enjoy the process!