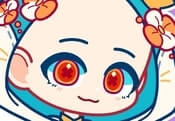 Gacha Designer FREE GAME · PLAY ONLINE
Gacha Designer is another version of the challenge where you can relax. Here players continue to make up scenes to have fun. Customize your characters any way you want and enjoy it! Forget about the rules and boundaries, just let your emotions run wild!
Come up with unique heroes that will fit perfectly into the plot of your work. You can also choose your backdrop conditions by furnishing it with scenery. Put the avatars in the right poses and add cool facial expressions! Enjoy!