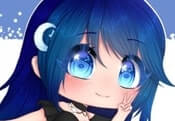 Gacha Cute FREE GAME · PLAY ONLINE
This is another great mod for the famous game. It's different from the original version but it only makes it better. Here players can enjoy great graphics and music accompaniment. This time you will be able to find a lot of new clothes that you haven't seen before.
Make the right choice to create a stunning image! Combine different items or choose a ready-made skin. There are also new additions to the animals, and now there are new types. Come up with a story that deserves attention and go on stage!