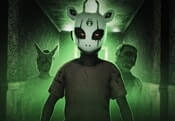 Frightence FREE GAME · PLAY ONLINE
Players will take on the role of an ordinary janitor. According to the plot of this game, you were called to work on an urgent matter. This is a house that has sad stories and scary legends are told about it. They say that no one here can last long and go crazy.
It seems that the last tenant has left the apartment, but this needs to be checked. The fans will have to clean all the rooms, but is it possible? Get inside and explore! There are creepy creatures here that can scare you, so get ready!