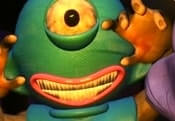 Fred's Cereal Company 2 FREE GAME · PLAY ONLINE
It was supposed to be a normal working day, but something went wrong. The main character wrote a letter of resignation and took it to the director. It was not signed and was returned to the hero's table. Suddenly, the positive vibe changed to creepy!
The doors are closed, the windows are opaque and now what to do? Help the guy cope with all the stressful situations on the way! In this game, players will solve puzzles and explore the surrounding area. In addition, exciting battles await you!