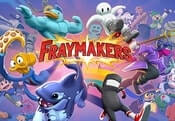 Fraymakers FREE GAME · PLAY ONLINE
In Fraymakers you can compete with up to 4 players at the same time. You have to visit the battlefield and engage in a powerful battle. Before starting the process, create a unique hero and also select a mode. In addition, you can make the scene yourself!
The rounds will become more difficult, so you need to improve your skills. Compete with other participants for the first place in the leaderboard! Here you can edit anything to make the process more interesting. Choose assistants who will start the matches! Watch their provocative moves and enjoy!